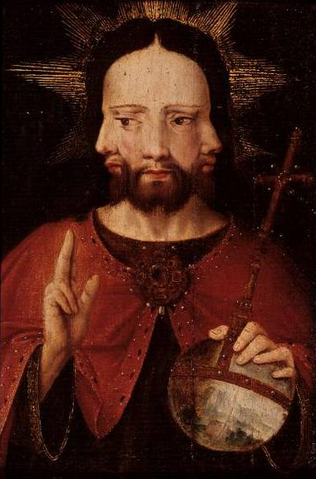 Unknown early or Renaissance Flemish or Dutch artist, circa 1500, oil on panel. [If you can add anything, comments and edits directly to this page are welcome.]
Beginning around the twelfth century, the trinitarian god was sometimes depicted as a three-faced or three-headed Jesus, until Urban VIII declared this heretical in 1628. Examples include Filippo Lippi's St. Augustine Perceives the Trinity and Andrea del Sarto's Trinity with Four Saints.[1]
This painting has been with the Shickman Gallery, New York. Reproduced in F Buechner, The Faces of Jesus, 1974, page 216; G R Elder, An Encyclopedia of Archetypal Symbolism, vol 2 The Body, 1996, page 92.
Licensing
Edit
This file is in the public domain
Copied from Wikipedia:Template:PD-art-US:
This image is in the public domain because under United States copyright law, originality of expression is necessary for copyright protection, and a mere photograph of an out-of-copyright two-dimensional work may not be protected under American copyright law.
This image is in the public domain in the United States. In most cases, this means that it was first published prior to January 1, 1923. Other jurisdictions may have other rules, and this image might not be in the public domain outside the United States.
Unless the creator died more than 70 years ago, the work of art is not public domain worldwide.
Appears on these pages

of
This could become a collection of good sources for literary criticism of scripture. Who needs...
File history
Click on a date/time to view the file as it appeared at that time.
Ad blocker interference detected!
Wikia is a free-to-use site that makes money from advertising. We have a modified experience for viewers using ad blockers

Wikia is not accessible if you've made further modifications. Remove the custom ad blocker rule(s) and the page will load as expected.