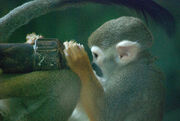 Greasemonkey user scripts:
Daniel Martin is developing an experimental Chrome extension now available for testing. After it is ported to Firefox, our killfile fork will be unsupported and deprecated.
Check the comments at Talk:Greasemonkey; there may be ways to get the killfile and other scripts to work in Chrome.
Ad blocker interference detected!
Wikia is a free-to-use site that makes money from advertising. We have a modified experience for viewers using ad blockers

Wikia is not accessible if you've made further modifications. Remove the custom ad blocker rule(s) and the page will load as expected.